Playboy January 1957 Issue - A New Year with Fiction, Opinions, Fashion, Food, and Humor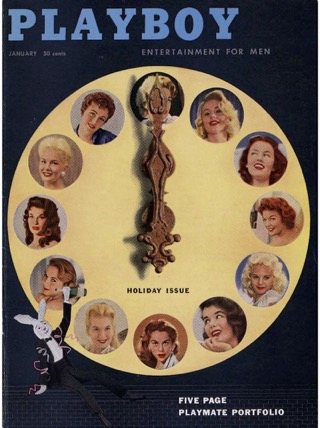 Playboy January 1957 Issue
The January 1957 issue of Playboy magazine welcomes the New Year with international flavors, fiction, opinions, fashion, food, and humor. "Playboy's International Datebook" provides travel suggestions, while "Comes The Resolution" offers an opinion piece.
The magazine questions "What's Happened to Leisure?" and shares humorous takes on various topics such as "Away with Neckties," "Down with Rock-and-Roll," "Elect Me Dictator," "Be Nice to Cities," and "Never Get Married." The issue features "The Girls of Shepherd Market" article, and fiction such as "The Hustler" and "In a Season of Calm Weather." For food enthusiasts, "Magnificent Munching" provides culinary delights. "Formal Fashions North and South" covers attire, while "Bird Lass" is a creative piece. "Miss January" is showcased as Playboy's Playmate of the Month. "Playboy's Party Jokes" offers humor, and "The Mask and The Maiden" brings more fiction. "Viva Mexico!" reveals travel content, and "The Cuckold and the Cakes" is presented as a ribald classic. The issue concludes with "The Handling of Women in Business" as an insightful section.
Collectors and enthusiasts can search for vintage copies of this issue or access it through digital platforms if available.