Playboy May 1957 Issue - A Tapestry of Fiction, Lifestyle, and Entertainment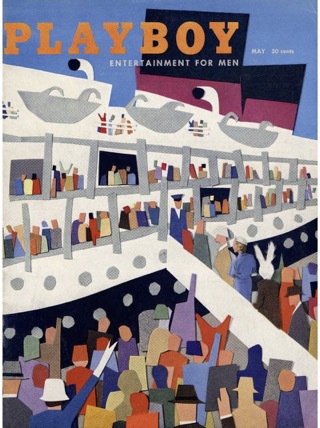 Playboy May 1957 Issue
The May 1957 issue of Playboy is a colorful tapestry of fiction, lifestyle, and entertainment. The issue kicks off with a thrilling fiction piece titled "Master of the Revels." It follows with a pictorial segment titled "The Postal Peel of Peaches Page.
" For TV enthusiasts, "It's Like This With TV" is an insightful article, while "Little Land of the Big Wheel" serves as another informative read. The issue takes the reader on a visual journey with "Return to Tokyo," a pictorial exploration. "The Big Getaway" delves into attire. The magazine features "Miss May" as Playboy's Playmate of the Month. Laughter is in abundance with "Playboy's Party Jokes." Another fiction piece, "The Not Nice Guy," ensnares the reader before diving into practical attire advice with "The Knack of Packing." "Lil Abner's Gals" offers a pictorial treat, while "The French They Are a Funny Race" serves up humor. A fascinating article, "Tiger Hunt in Cooch Behar," and "The Tale of the Terrible Teeth," a ribald classic, wrap up the issue.
For collectors and enthusiasts, the issue may be available in physical form through vintage magazine collectors or online platforms. There may also be digital versions available.