Playboy September 1956 Issue - Lifestyle, Fiction, Sports, and Personality Profile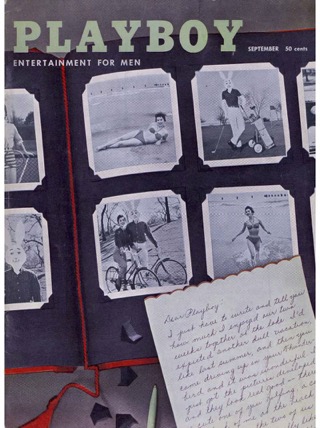 Playboy September 1956 Issue
The September 1956 issue of Playboy comes packed with a range of engaging content. "Love, Incorporated" is a fiction piece that captures readers' imaginations, while the "Hemingway" section delves into the personality of the legendary writer. "The Doll" is another gripping fiction piece, and "Filming the Folies-Bergère" offers a visual treat with a pictorial.
The issue also includes humorous limericks and "Playboy's Party Jokes." In terms of lifestyle, "Suit Yourself" and "Shirt Tale" are features that deal with men's attire. "The Amorous Goldsmith" spices things up with a ribald classic. Meet "Miss September," Playboy's Playmate of the Month, and travel to the Caribbean with "Orpheus in Haiti." Learn about serving "The Hearty Ham" in the food section, and explore "Playboy's Penthouse Apartment" for modern living insights. For sports enthusiasts, "Boxing's Child of Destiny" covers boxing. "Playboy's Bazaar" offers a buying guide for readers.
Please note that the magazine is a vintage edition and might be available in PDF format or as collectibles.